PRINT    |    STORE & SEND    |    WORLDWIDE DELIVERY

The Challenge
Quality English are renowned for their commitment to connecting international students with high quality independent English Language schools, colleges, courses and agents. Students who choose a QE school or a QEd college can be assured of a great experience. All of the schools and colleges have academic excellence supported throughout by a personal and caring approach. This allows students to thrive in their new surroundings and enjoy all the amazing opportunities on offer to them.
As a membership organisation in the EFL (English as a Foreign Language) sector, they represent independent schools all over the world, regularly hosting international events. In order for these events to succeed and flourish it is vital that all of their materials as well as the marketing collateral of their schools reach every event in an efficient and timely manner. This means facing the ever-changing customs regulations which can so often cause problems, delays and missed opportunities.
In order to protect their outstanding reputation, Quality English knew that these ongoing challenges were not ones that they could face alone
Our Solution
At Inline we have years of experience when it comes to international education, print, storage and distribution. We help our partners to drive efficiency by streamlining processes, saving money and time. Our incredible systems provide accurate and real time insights, which supported by our knowledge of customs regulations means that you have peace of mind that your materials will reach their destination on time every time.
The team worked closely with Quality English to provide cost effective print solutions for their collateral helping them to further enhance the reputation of their quality brand. In addition our one-stop shop solution for storage and international distribution meant that their events were hugely successful. This enabled them to further promote their services, reaching out to students world wide offering them exceptional choice and value.
Testimonial

We very much enjoy working with the Inline team on our print, storage and distribution projects. The best accolade we can give is that we simply don't need to worry about anything as we know it'll be taken care of.

Jonathan Swindell – Chief Executive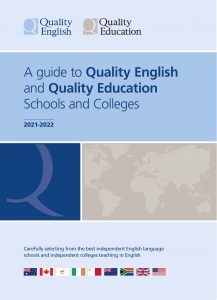 The Result
Quality English were given complete peace of mind that their print, storage, distribution and most importantly their brand were in safe hands. They knew that their collateral would arrive at their chosen destinations on the specified dates. We were able to proactively intercept customs issues on their behalf and were always available on the phone to assist quickly and efficiently keeping everything on track.
We were also able to provide proactive print solutions, delivering fresh new cost effective ideas that were environmentally friendly too. A win win all round.
If you are looking for a partner who achieves real results and give you peace of mind then we would love to hear from you. We are extremely proud of our commitment to supporting International Education and changing the way businesses think about their marketing communications, fulfilment and delivery with our high quality bespoke solutions and attention to detail.
When it matters most we are designed to deliver. To find out more contact our team on +44 (0)20 7231 8000 or [email protected]