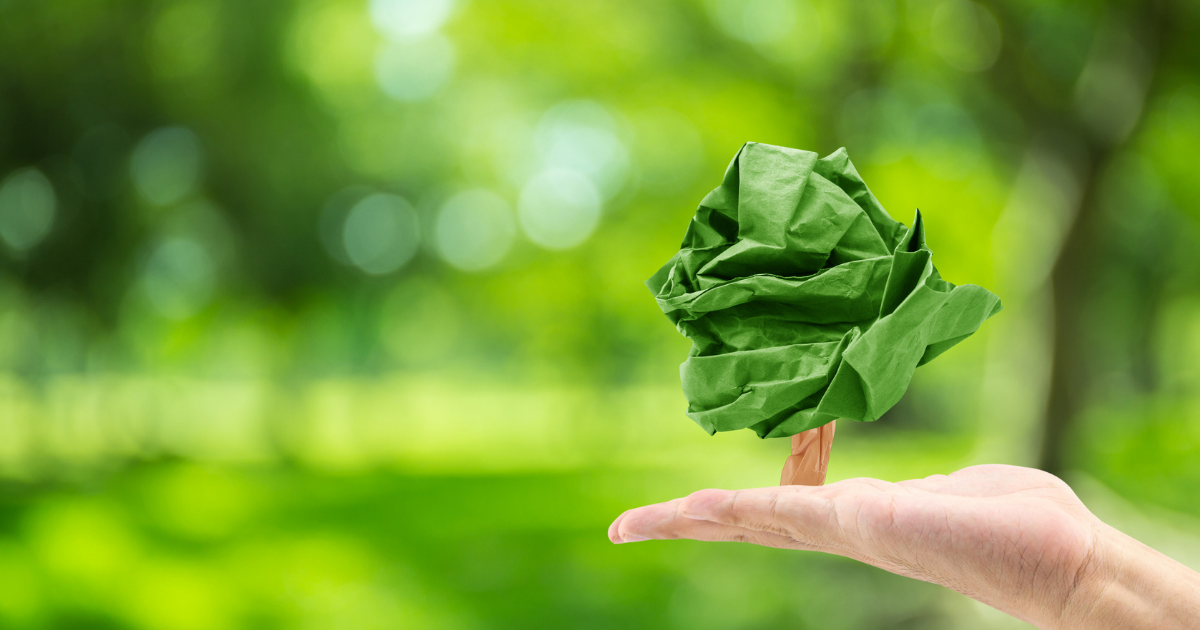 YES printing is environmentally friendly!
Out with the old
It is not uncommon to hear of people's concerns about whether or not print is a sustainable industry. It's true that traditionally print has used large quantities of vital resources including trees and water. Overproduction on print runs have led to unnecessary waste and some older processes required the use of harmful chemicals BUT for many years now things have been changing for the better. Today there are so many opportunities to be greener, minimise waste and significantly reduce the negative impact on our planet.
At Inline we are certainly committed to these changes and we know our clients are too, together we can make a difference.
Paper
Paper that is created from environmentally sound sources such as post-consumer waste and sources that are FSC (Forest Stewardship Council) certified have minimal impact on the environment.
FSC certified paper has increased dramatically during the last few years to the point where today it has pretty much become an industry standard which is fantastic progress. FSC sets standards on forest products along with certifying and labelling them as eco-friendly. This ensures that:
Paper comes from responsibly managed plantations
FSC certifications raises standards as it is a catalyst for improving forest management
It means that consumers can be confident about the products they are buying
It highlights the dangers of deforestation and supports sustainable forest products
Inks
Today most inks used in the printing process are vegetable based eco solvent inks and waterless based inks.  These are quickly replacing the previous petroleum based toxic versions that released large quantities of greenhouse gases including carbon dioxide into the atmosphere. Furthermore technological innovation means that the vegetable based inks use significantly less water too.
Being part of the ever changing print industry is something that we are extremely proud of and its embedded within our core values to continually seek out new opportunities to make every part of the company socially responsible and environmentally sustainable. So yes for the print industry paper and ink are big factors but there's so much more we can do to help too.
 Global Hubs
We also help our clients to reduce their carbon footprint by minimising the number of miles that their Marketing materials have to travel. With Inline you can opt to print, store and distribute from one of our in-country hubs strategically located in the UK, Brazil, China Colombia, India, Russia, South Korea, Taiwan or Turkey.
Intelligent inventory
Inline also provide you with tools to manage your full account online providing a clear picture of your print and distribution requirements to help reduce waste and redundant stock levels each season. Putting you in control at all times with MyInline.
Eco-friendly promotional gifts
Promotional gifts have evolved over time. They remain a brilliant way to promote your brand and get your business noticed but they can also showcase your commitment to sustainability . At Inline we offer a wide range of eco-friendly promotional items which are ethical, sustainable and affordable too.
Packaging
The importance of packaging should never be overlooked. Of course it has many practical roles but it is also an essential and powerful Marketing and Communication tool too. The packaging itself has a direct correlation with the products shipment value. The more sustainable the packaging is, the higher the products perceived value.
Everything that we do as individuals and as businesses has an impact on the environment. Print today without a doubt supports sustainability. The industry values forestry and technology is constantly advancing to reduce waste and minimise our carbon footprint at every point along the way. At Inline this is a responsibility that we take very seriously and are always adapting with new products, processes and the technology to ensure that we and our valued clients make a difference.
Ready to get going with your sustainable print campaign?
We would love to hear from you and together make changes for the better, +44 (0)20 7231 8000 or [email protected]