PRINT   |   STORAGE   |   PICK & PACK   |   WORLDWIDE SHIPPING

The Challenge
Freelancer magazine is a quarterly business and lifestyle glossy magazine created by freelancers and dedicated to helping freelance businesses grow. Full of stories, interviews, business insight and advice as well as tips, trends, news and lifestyle features the magazine is beautifully written, designed and printed to inspire and connect.
As a start-up magazine, it was essential that the publication stood out from the crowd and had a strong appeal to its potential audience. It needed to be packed full of unmissable content and printed to the highest quality with a reliable distribution network in place to meet the growing global demand.
Our Solution
We are always eager to support new start-ups at Inline. We too were once a small start up ourselves many years ago so understand the challenges. From the moment we began talking with the creators of Freelancer magazine, our team were able to put their minds at rest. We were able to offer a full range of inspirational print solutions for their magazine, safe and secure warehousing, accurate pick and pack facilities as well as a reliable cost effective world-wide distribution service.
As with all Inline partners, Freelancer magazine also benefited from our cutting edge technology with MyInline. It allowed them to monitor their stock, upload orders and have real time insight at all times. This enabled them to keep complete control and gave them the time and resources they needed to concentrate on developing their freelance community and producing captivating content.
Every detail was taken care of by our team including managing returns and even identifying issues with postcodes and avoiding unnecessary and costly mistakes. We always go the extra mile in order to provide a first class customer experience which is combined with a personal touch and attention to detail.
"Inline is everything we have been looking for in a distributor and much more. The whole team is so friendly and always go above and beyond to help us. Telling us if there have been any returns or if a postcode looks incorrect so we can fix it. They have a great online system where we can upload our orders and track our stock. 

 They aren't too far from where I live so I've popped down a couple of times to see the team, the warehouse and the mag when it was hot off the press. These things make such a difference. They are professional, provide an amazing service, are good value and are an absolute pleasure to work with.

It's super cheesy but they really do feel like an extension of our team."

Sophie Cross, Editor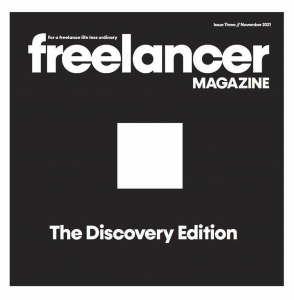 The Result
Although new, Freelancer magazine really has hit the ground running. Their magazines have been beautifully printed at Inline with quality stock and stand-out features. Issue 3, the discovery edition had a soft matt laminated cover with a die-cut square in the middle which not only looked amazing and got people talking but it also formed part of their Instagram giveaway competition.
As the subscriptions were coming in thick and fast the creators of Freelancer magazine knew that they were in safe hands as the Inline team carefully picked, meticulously packed and distributed every order to 22 countries around the world. The feedback from readers has been outstanding and the subscription numbers continue to grow.
Making a real difference to the businesses that we work with is at the heart of everything that we do at Inline. Giving our clients flexible print, storage and distribution solutions that allow them to grow is what we do best. If you are looking for an experienced fulfilment partner that you can trust then we would love to hear from you because when it matters most, we are designed to deliver.
Contact us on +44 (0)20 7231 8000 or [email protected]