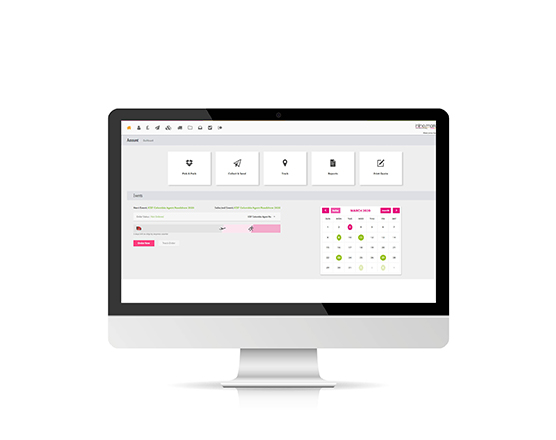 What is myInline?
As many of our existing clients already know, myInline is your very own personal portal, providing you with complete insight, control and management of your stock in just a few simple clicks.
This week we are pleased to announce that we have launched a new and improved version. This latest version still has all the same amazing features, but by listening carefully to what our clients say we have made some further enhancements which means that myInline is now even more intuitive, more accurate and also so much quicker than before.
Some of the new features include:
New technology We are dedicated to providing our clients with the best possible experience and therefore it is vital that we use the latest technology available to future proof our systems and ensure that they are not only capable but also extremely reliable.
Google Lookup When you place an order via the Pick & Pack screen or add in a new address to your address book, you can now type in a post code for Google to validate and autocomplete for you. This feature will help eliminate potential errors, keeping all your data accurate and help to prevent any shipments from being returned due to incorrect address details.
Manage addresses page Improvements have been made to streamline the process of viewing your saved addresses. You can now view details in all address books, filter and search by country and address book to find specific contact information.
New countries and regions All combinations of countries and regions can now be found quickly and easily via the Pick & Pack screen.
Branded email notifications A new option is now available (at an additional cost) whereby when you place an order, an email confirmation can be sent to your chosen recipient from your email server showing your branding. If you are interested in this service, please let us know.
Plus, several other user-friendly updates to make the whole ordering process smoother and life a lot easier.
The core features remain
Don't worry about the bits you already love; they are still there:
– Easy to navigate dashboard
– Invoicing by department feature
– Stock management tool to move stock between your stock groups
– Event management tool to see all major events and order items as needed
– Transparent distribution pricing
– Courier tracking
– Print estimate request function
Simple, streamlined and user friendly
All in all, myInline simplifies and streamlines all of those essential logistics processes to keep you informed, in control and one step ahead.
You can request print quotes, place orders for dispatch, move stock, track courier deliveries, export reports and avoid costly mistakes. Just one of the reasons why becoming an Inline partner is the perfect business solution.
"We are very happy with how well we've been looked after by the Inline team! The service you provide has exceeded our expectations – prompt communication, extraordinary customer service, a user-friendly online system – the list goes on. We are thrilled to be working with your team and won't hesitate to recommend Inline."
Let's talk
If you are already working with us and have any questions, our team are always happy to talk to you and make sure that you are getting the most out of myInline and all of the services that we can offer you.
If you haven't worked with us before then we would love to speak to you, discuss your projects and for you to become an Inline partner.
Contact us on +44(0)20 7231 8000 or email [email protected]