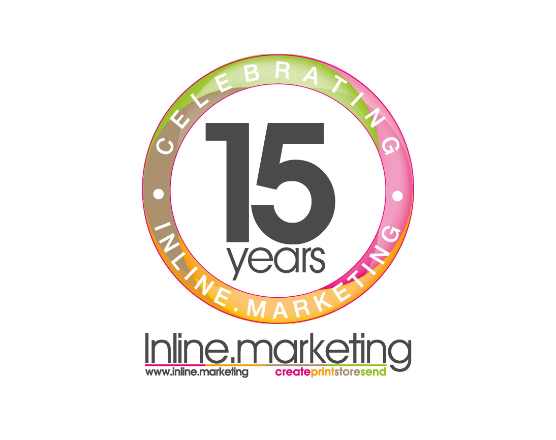 2018 is a big year for us at Inline.marketing. Not only does it mark our 15th anniversary but it is also the year in which we launch myInline.
Our CEO Danny Silvester, explains the pros and cons of the whole process!
myInline is our bespoke portal which enables our clients to have complete insight, control and management of their marketing collateral in a few simple clicks – and so much more too. It is a culmination of all our hard work in response to client feedback and will certainly strengthen the service that we offer to our clients now and in the future. Since we began back in 2003, we have been fully committed to exceeding expectations and developing strong relationships and this is why, for us it was the next logical step. We have grown from a one man show to an amazing team of over 25 people, with over 500 clients in 21 countries and 7 strategically sited hubs in Europe, Asia, South America and the Far East. Nothing stands still and neither do we but like all good things, it's not easy but certainly worth the effort.
Slow and steady wins the race
We knew that to get this right it was never going to be a quick fix. We already had a system that worked well but we were convinced that we could make it even better. We listened carefully to our clients, finding out what features they were looking for, what would help them the most and asked how they would like to be able to use the system in an ideal world. We spent time digging deep into our own business model as well as that of our clients which enabled us to fine tune our "wish list" and identify what was vital, what would be good and the bits that really wouldn't make a difference at all.
The investment
At Inline.marketing we have never shied away from investment. It's how we have got to where we are today by making sound investments in our business, equipment, technology, premises, warehousing and our team.
We knew that we needed to develop this customised software in order to make a real difference and in doing so, exceed our client's expectations and secure increasing business in the future. This type of project rarely if ever runs smoothly and ours has certainly had its challenges along the way. However, the ROI for both us and more importantly for our clients has been evident from day one.
It's all about the benefits
At every step of the development phase, we never lost sight of what was important – the benefits to our clients. It's very easy to start adding on impressive features but if they have no real value then actually what they do is overcomplicate things and reduce the value. For us it was all about crystal clear navigation so people can hit the ground running. We have some excellent training documents for support but we wanted each step to be logical and intuitive. It's about personalisation but not for personalisation's sake! Personalisation that enables you to arrange stock groups, to create users and bespoke permissions.
It's about tools that with just a quick click allow clients to monitor stock, plan for events, track job progress, request estimates and address all of those vital "I wish your system could …." issues. Invoicing can be set via department and we can even communicate news directly to clients to keep them up to date with what's important too. All in all, we met the tick list!
Making your life easier
This is our mantra and everything that we do starts and stops with this philosophy. What the myInline system has enabled us to do is maximise our expertise. We have eight core services and the synergy between them offers amazing value to our clients. The more we understand about a business, the more we can contribute.
The system allows us to offer so much more support and efficiency that we are already wondering how we survived without it!
Our online system will never replace the personal touch, our team will always be hands on and ready to help but what it does do is put the power in the hands of the client and support them on a daily basis when they need it, reducing stress and saving time and of course money!
A system like this is never truly perfect, it will always be an ongoing project but for us it is one that we are committed to developing long term to make it the best it can be.
Would we do it again?
Yes, we would!